We've moved!
Catalyst is pleased to announce our new website, CatalystPublicRelations.com! Our blog is now available through the main navigation, The Catalog. We will no longer be posting through Tumblr. Thanks for following us!
14 tags
Bret Werner Introduces 2011 Catalyst Fan...
Yesterday, we introduced the 2011 Fan Engagement Study. Today, Catalyst Managing Partner Bret Werner introduced the study's main findings and brand implications. Check it out.
8 tags
Athlete Influencers Driving Purchase for Consumer...
For consumer brands seeking to drive purchase through social media engagement, the solution may be simple: have an athlete mention it. According to our 2011 Catalyst Fan Engagement Study, sports fans who follow their favorite athletes on social media are 55% more likely to purchase a brand if an athlete mentions it on Facebook or Twitter. Additionally, athlete mentions of brands on social...
5 tags
Want to Increase Your Twitter Followers?
By Ray Rahmati Catalyst Public Relations Go out and win a major golf tournament! That's just what 22-year-old Rory McIlroy did yesterday after dominating the field at Congressional Country Club to become the second youngest player to win a major championship. Young Rory, an active Twitter user with over 300,000 followers to his account prior to the U.S. Open, rounded up nearly 60,000 new...
9 tags
Vancouver Stanley Cup Riots: Aftermath on Twitter...
A massive riot occurred in Vancouver after their 4-0 loss in game 7 of the Stanley Cup Finals to the Boston Bruins last night. Mashable collected real-time pictures, showcasing the massive rioting that occurred in the streets.  Why the violence? Well, first, the Bruins' win marks the first Stanley Cup Title in 39 years. The team proudly brought home the championship win to a passionate...
8 tags
Fast Company's 100 Most Creative People in...
By Cassie Eberle Catalyst Public Relations A synthetic-biologist, a brew master and a White House chef walk into a wine bar… no this isn't the start of another Beer Summit joke – it's the beginning of Fast Company's 100 Most Creative People in Business 2011 event and proof that, in any industry, creativity is not just an element of success, but at the root of it. While every speaker had a...
7 tags
Catalyst Employees Volunteer at Prospect Park...
Today, some of the Catalyst crew volunteered with the Prospect Park Alliance, manning a field day for summer school kids at Prospect Park, in a children's area that consists of a Historic House, a Carousel, as well as a large open field. The day consisted of organized outdoor games for middle-school NYC kids. We had a great time encouraging them to be physically active! Check out some...
MLB vs. Stephen Colbert: Beat the Streak
For the next three days, Major League Baseball (MLB) and Stephen Colbert are engaged in a Beat the Streak baseball knowledge competition.  What's at steak? If the MLB loses, they will grant Colbert full access to their Twitter account, which has over 1.2 million fans, for 24 hours. As part of the challenge, which begins today, Colbert and MLB will each make one Beat the Streak pick per day...
8 tags
ESPN 3D Marks One Year Anniversary With Plans For...
Check out the Cynopsis Sports interview with Bryan Burns, ESPN's VP of Strategic Business Planning and Development, about ESPN 3D and the role of sports in consumer adaption to technology and ESPN's role in that process.
6 tags
Big Lead Sports Hires Barry Janoff To Expand...
The Big Lead added Bary Janoff, a talented sports business editor, to its roster, in its new, dedicated Sports Business section. Read more about this news over at SportsBusiness Journal. 
ESPN 3D Marks One Year Anniversary with Plans for... →
ESPN, Simmons Launch Grantland →
7 tags
Indians Win Fans With Social Suite
Great article in SportsBusinessDaily today about the Indians finding new ways to make fans feel special using social media at the games.   Last season, Indians created something called the "Social Media Suite," where bloggers and Twitter-friendly fans share about messages about their ballpark experiences and connect with one another - it existed in the outfield bleachers.  Over the...
6 tags
NBCUniversal Gains Rights to Olympics: Sports...
By: Bill Holtz Managing Partner  The news that Comcast's NBCUniversal has been awarded the television rights to the next four Olympic Games – to the tune of 4.4 billon dollars – was fascinating on many levels. First, full disclosure: our agency currently works with both ESPN Audio and ESPN3.com, and the VERSUS Network, an all-sports channel owned by Comcast, is a past client of Catalyst. Back to...
10 tags
The Rules of Engagement: The NBA and Social Media
Great article recently published in Fast Company about the NBA's strategy to engage social media followers. This is a terrific read and a good reminder to brands as they engage consumers in this medium.  Rules of Engagement, from the NBA Social Media War Room While bored traditional sports reporters wait for quotes from the megastars, the NBA's elite social media team finds images,...
6 tags
Bill Holtz in PRWeek: Wilpon's statements strike...
By: Bill Holtz, Managing Partner The Mets have been a big story in New York the last couple of weeks, again for the wrong reasons. My thoughts on Fred Wilpon's troubles with media - published on PRWeek today…   Wilpon's statements strike out with the public Bill Holtz, Catalyst Public Relations That said, the last couple of weeks have been more interesting than usual for the Mets...
Twitter's Latest Upgrades: Follow Button, Photo...
Twitter recently rolled out a few new changes to its platform, incorporating a new FOLLOW button, as well as enriching photo and video services. It's important brands pay attention to these changes, as these provide opportunities for creative campaigns. Twitter launched a new FOLLOW button - one of the most shared stores on Mashable this week. The button functions similarly to...
8 Brands That Have Found Success on Facebook &... →
Read the full article on Mashable. 
Purina Dog Chow's 'Dare Us Back' Campaign
Earlier this year, Purina Dog Chow dared dog owners to have their dogs try their newly reformulated dog food. In return, the brand asked consumers to dare them back. The Band Perry, winners of the Top New Artist award from The Academy of Country Music, served as the face of the "Dare Us Back" campaign and kicked off the promotion by daring Purina Dog Chow to donate a ton of dog food to an animal...
7 tags
The Demographics of Social Media
This week's Ad Age collected social media demographics based upon user profiles. Check it out. Click the image below to read on.
3 tags
ESPNW: A New Voice In Sports
Worth checking out - espnW is a site dedicated to a new generation of women who grew up playing as athletes. Women who value sport more deeply and passionately than ever before, adn are lifelong fans because of it.
8 tags
Building Brand Communities in Sports
By: Bill Holtz, Managing Partner Sports has always served as common passion point for people, one that numerous brands have tapped into and leveraged.  Jon Last recently wrote an interesting commentary on MediaPost about the live sports experience as the ultimate brand community, and the opportunity that it presents to brand marketers.  Having attended many sports events, both in a professional...
Social Media and Sports: The 25 Most Influential... →
In general, these are based on Klout scores, a new standard of influence for those who are both highly followed and highly engaged online. What's your klout score? Who would be on your list of the most influential online in sports? Click headline above to see full list. 
The PR Pro's Guide to Facebook →
8 tags
Under Armour Engages Tom Brady Fans With Draft...
While coverage of the Royal Wedding ruled overseas on Friday, America's king of football, Tom Brady, reigned supreme in the eyes of Under Armour fans who were chosen to attend an intimate Draft Chat Q&A with the legendary quarterback. NFL analyst and former four-time Pro Bowl quarterback Boomer Esiason moderated the Q&A, which covered everything from how Brady defines leadership to his...
1 tag
2 tags
4 tags
A Straightforward "How To" for Photo Blogging →
7 tags
Twitter: Trying to grow in new ways
Interesting article in the Wall Street Journal today about some new Twitter strategies on the forefront. It seems Jack Dorsey, the new CEO of Twitter who recently took over for Evan Williams, is trying to fix some problems that need attending.  Twitter, with an estimated value of $4 billion, has more than 200 million registered accounts. However, the company doesn't say how many active...
Social media strategies and paywalls
As news organizations adjust their social strategies to avoid backlash from a paywall, the world can learn how to market a content platform effectively.  In general, it seems that across the board, these sites are trying to foster a sense of community that's worth joining. This is a great insight that can be applied across industries and initiatives.   Examples of adjustments are: ...
3 tags
Caps Combine Social Media with Social Cause for...
As they've done the last several seasons, the Washington Capitals have once again launched their charitable Beard-A-Thon initiative, this year to benefit riends of Fort Dupont Ice Arena. Washington Capitals Charities will be donating all proceeds from the 2011 Beard-A-Thon to Friends of Fort Dupont Ice Arena. Fort Dupont is the only public indoor ice arena located in Washington,...
The Band Perry Shows Consumer Engagement
A significant element of successful consumer engagement involves reaching your fans in meaningful, relevant ways. One way to do this is through giving thanks and highlighting user-generated content. The Band Perry did us this - they recently released a viral video on YouTube, in honor of their fans. The video showcases short clips of fan uploads singing one of their most popular songs. Over the...
4 tags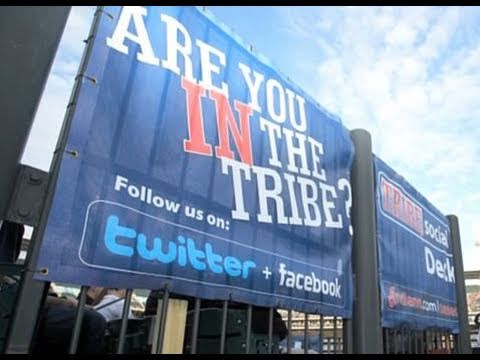 5 tags
@GaryVee's "Thank You Economy"
If you are a social media, PR or marketing practitioner, or a brand manager on any scale, pick up a copy of Gary Vaynerchuk's Thank You Economy.  Vaynerchuk's follow-up to his NYT best seller, Crush It!, is a playbook for how a company could and should develop online, by focusing on the often overlooked basics.  Gary should know - he's lived it. I pulled out a few of my...
6 tags
Houston Chronicle's Texans Chick: "Tailgating in... →
10 tags
2011: The Year of the Game
By: Megan Hueter Account Supervisor, Digital   The mere size and scope of SXSW Interactive conference this year more than doubled from last year – further evidence of explosive growth in the digital landscape. What was once a hipster gathering of tech geeks (early adopters) has now turned into a trade show, with everyone from CNN and Pepsi on-site, spending massive amounts of dollars to have the...
Sports at SXSW: BlogsWithBalls Digital Tailgate →
The Blogs With Balls network organized a digital tailgate at South By Southwest Interactive in Austin this week. A panel of digital sports influencers was in attendance, along with keynote Gary Vaynerchuk (a huge jets fan) who also stopped by to add his thoughts on sports and digital. Read a recap of the event here. 
Watch
Catalyst client partner Purina, specifically the Friskies team, came to Austin for SXSW this year to promote their newest product - Tasty Treasures with cheese - by partnering with digital influencers in the space. Friskies partnered with the wildly popular cat blog, I Can Has Cheezburger for a big, sold-out SXSW party Saturday night at Six Lounge. They ran a foursquare promotion that gave...
Subway Capitalizes On Lockout Negotiations →
Catalyst client partner Subway announced yesterday that they're giving away FREE footlong subs to football negotiators held up in the FMCS building in Washington D.C. over labor negotiations. The restaurant, located outside the negotiation building at 21st and K, sports the below sign, which reads, "Finally, something you can all agree upon."
5 tags
Timex Multisport Team 10th Anniversary →
The Timex Multisport Team is the oldest and most prestigious triathlon team in the country. Catalyst was excited to join them in celebrating their 10th Anniversary at their annual training camp at the Timex Performance Center in New Jersey (training facility of the New York Giants). Catalyst held a special discussion on social media, showing the athletes how the Timex athletes can utilize digital...
4 tags
7 tags
Will Sports Illustrated's Subscription Plan Rescue... →
10 tags
Can The Next Rachel Zoe be Found Online?
By: Cassie Eberle Catalyst Public Relations  I am not a fashion blogger, do not work in the fashion industry and am not even very fashionable. So of course the Social Media Week panel I was jumping to attend was "Can the Next Rachel Zoe Be Found Online." Apparently I'm a sucker for seeing how "the other half" lives. After Googling Rachel Zoe – she's a fashion stylist with her own Bravo reality TV...
5 tags
1 tag
The Big Shift - Social Media Week
By: Megan Hueter, Account Supervisor - Digital A livestream of the New York Social Media Week session "The Big Shift" is located here. This afternoon, I attended the Social Media Week panel The Big Shift, held at Hearst on 57th and 8th avenues.  First, I have to say - the building. Wow. The panel was held in a conference room with an unreal view of Central Park. The only thing that...
AOL Acquires Huffington Post for $315 Million →
This is big news for online content. According to the New York Times, the deal is worth $300 million in cash with $15 million in stock. 
6 tags